The Calm Sea: Emily St. John Mandel's new masterpiece
In The Sea of ​​Tranquility (Rivages, 2023 literary season), Emily St. John Mandel uses everything possible with remarkable literary power. As these stories progress through time, the novelist's words uncover the intimate truths of existence. A few years later station elevenEmily St. John Mandel confirms her talent.
With station elevenWith the book published in 2014, Emily St. John Mandel wrote one of the greatest masterpieces of contemporary literature. This novel takes place in a post-apocalyptic world and is full of flashbacks to our time. It was a fresco of hope, an ode to all forms of art for inhabiting the world, for " Survival is not enough ". That's why we jump at it with a certain anticipation The Sea of ​​Tranquility.
Published on August 23, 2023 in France by Rivages, this book is essential reading, sweet and dizzying. A novel that, albeit based on time travel, questions our own time with finesse. What remains of us behind the great challenges of our decade? What do we share more deeply than the evils of an era?
Emily St. John Mandel begins her novel in 1912 and then takes us to the dawn of the 21st century when a certain Covid pandemic hits before propelling us further into space colonies for another two centuries. There are several points in time, but they all have a little "something" – an event – in common. Parallel universes, time travel and "simulation hypothesis" are on the agenda. But in this sci-fi novel, empathy is key.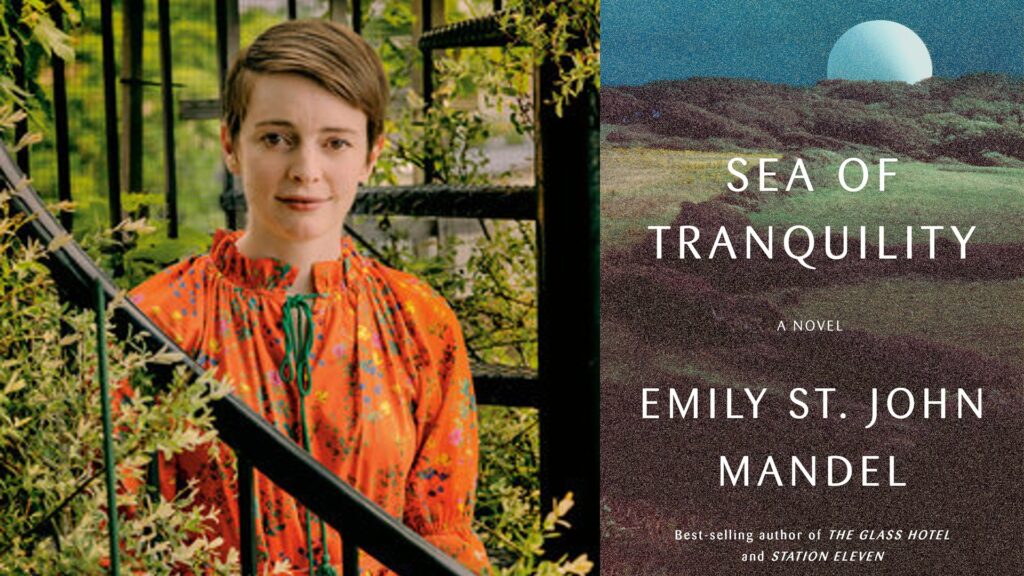 The power of the possible in a hug
Are we living in a computer simulation? If you are reading these lines on your computer or smartphone, you may just be the product of programming made by a machine with elusive capabilities. Here's a completely hypothetical theory that surfaced a few years ago among transhumanists in Silicon Valley.
Emily St. John Mandel draws on this theory not to question it, not to search for its possible veracity, but to enjoy it, in an act of pure literature: to ask more questions and even the discussion to decentralize. The heart of The Sea of ​​Tranquility is nothing other than existence itself.
As in station elevenThe initial difficulty that challenges the characters consists in nothing more than to live without being the shadow of fears, desires and emotions that social structures impose on us in a given time. The author then releases all possibilities. It "bursts" the world into a thousand pieces and tears through space-time to search for the maze of paths we have taken. Emily St. John Mandel writes not so much about an infinity of possibilities as about the beauty of the possible, as imagination, as power.
This power of possibility lies in a hug. A violin concert, a walk in the woods, a kiss. Emily St. John Mandel's literature is a literature in which words seek our compassion to find truth. A novel whose poetry of intersecting stories already tells us all about the meaning of existence. Yes, finally The Sea of ​​Tranquility is a superb novel that tirelessly affirms the talent of Emily St. John Mandel.
When the novelist invites us into her world
A talent that expresses itself The Sea of ​​Tranquilitythrough a form of intimacy to which Emily St. John Mandel had not yet accustomed us.
You will find this intimacy at the Olive Llewellen. This author is known to have written a novel about a lunar colony in 2203, set after a pandemic. She's on a promotional tour when a real pandemic hits, leading to lockdowns. Any resemblance to a real-life writer named Emily St. John Mandel, who wrote a post-apocalyptic novel a few years before a real pandemic and lockdown hit, is no coincidence.
It's the chapters with Olive Llewellen that give us the best moments of the novel. In these pages, Emily St. John Mandel confides in us, telling us through the truth of fiction rather than autofiction. Funny, moving, the American novelist takes us into her world with great modesty and second class. It also shows how literature and the world intersect and flow into one another.
" You write a book about a fictional tattoo and then the tattoo becomes real in the world and after that almost anything seems possible. She'd seen five of these tattoos, but that didn't make it any less extraordinary to see how fiction can invade the world and leave a mark on someone's skin. » (Excerpt VO)
The Sea of ​​Tranquility, Emily St. John Mandel, 304 pp., Payot & Rivages, August 23, trans. Gerard De Cherge
A first version of this article was published in January 2022 as a preview of the VO release. It was updated when it was released by Rivages in France.
---
Subscribe to Numerama on Google News so you don't miss any news!