PlayStation Portal: The portable PS5 costs 220 euros and is useless
As announced in a press release, the PS5's portable cousin, formerly known as "Project Q," is just a simple 8-inch screen in the center of a controller, with no remote playback capability. Even before we've seen it in real life, we'll be disappointed by the weakness of this proposal.
Don't call it Project Q anymore, call it PlayStation Portal. Announced by Sony in May 2023, the portable twin of the PlayStation 5 finally has a name, features and a price. Unfortunately, unless your expectations were very low, you run the risk of being disappointed by the Japanese proposal. The PlayStation Portal is just a DualSense controller with a screen designed for playing at home while someone is watching TV. All other possible uses that one would have hoped for are not available despite the rather high price of 220 euros.
A missed opportunity
"PlayStation Portal is the perfect device for gamers who need to share their living room TV or just want to play PS5 games in another room of the house.". In one sentence, Sony sums up the only benefit of its PlayStation portal. The portable console, which connects to your PS5 via WiFi, simply streams the console's display in real time so you can play it in your room or bathroom. The only advantage is that it integrates a DualSense controller and a large 8-inch screen (LCD, Full HD, 60fps) to save you time.
Any other use you could have imagined, such as remote gaming thanks to Remote Play (smartphones, tablets and computers are capable of it, not the PlayStation Portal), cloud gaming thanks to PlayStation Plus, movie streaming and series or Multi-screen to display a game's map on the controller when playing on TV is missing. Sony settles for the bare minimum, and that's extremely frustrating.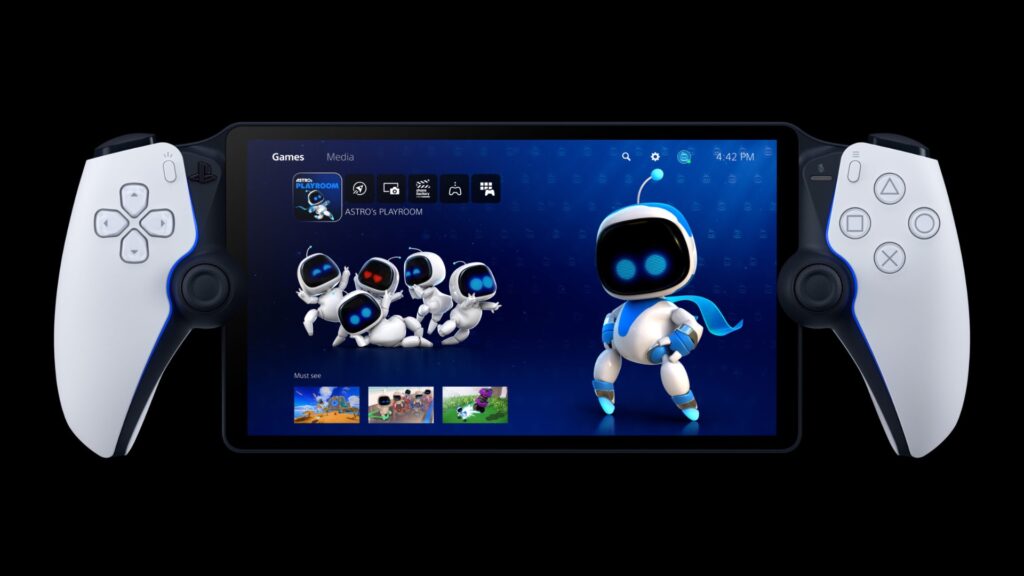 According to IGN, which was able to test the console, the PlayStation Portal does not have Bluetooth. In other words, forget about connecting a second controller or wireless headset. Another great idea!
Can an update save PlayStation Portal?
Is there a proprietary operating system on the PlayStation portal (rumored to be Android)? We don't know, Sony only shows images of the console with the PS5 screen. The console can probably still be turned a little, but the clamp seems to be very large. It's a very surprising decision not to allow remote play remotely over a connection to any wifi, completely crippling the console.
Is the PlayStation Portal doomed to flop? At 220 euros, it costs the price of three DualSense controllers, without much benefit. You can also connect a DualSense controller to your Android smartphone for a similar experience, which also works outdoors. Sony may continue to provide PlayStation Portal updates in the future. Perhaps future versions of the product will allow him to explore cloud gaming and be more versatile as a result. The release date is unknown, Sony speaks of the end of 2023. Until then, we can only hope that the company has some surprises in store for us.
---
Do you want to know everything about the mobility of tomorrow, from electric cars to pedelecs? Subscribe to our Watt Else newsletter now!