Technology
How to unlock all four endings of the forgotten city
The Forgotten City takes you on an adventure full of twists and turns and epic proportions. From humble beginnings as a Skyrim mod into a comprehensive game on par with Skyrim, The Forgotten City's plot is complex but masterfully executed with flirting side quest. From an archaeologist to a fugitive, you can play multiple roles to give you a different experience.
RELATED: The Forgotten City: What to Do After You Beat the Game
In a hidden Ancient Roman city, you begin with the mystery of finding Al Worth, before goals change to help the Magistrate Sentius figure out who will activate the Golden Rule and turn everyone into gold. Before long, you'll realize that not all things are as they seem, and the real good people are the ones you have to watch out for.
With four different endings, The Forgotten City deals with issues of morality and how long it takes you to get everything right. Here's how to unlock each ending.
4


Many will suffer – End of one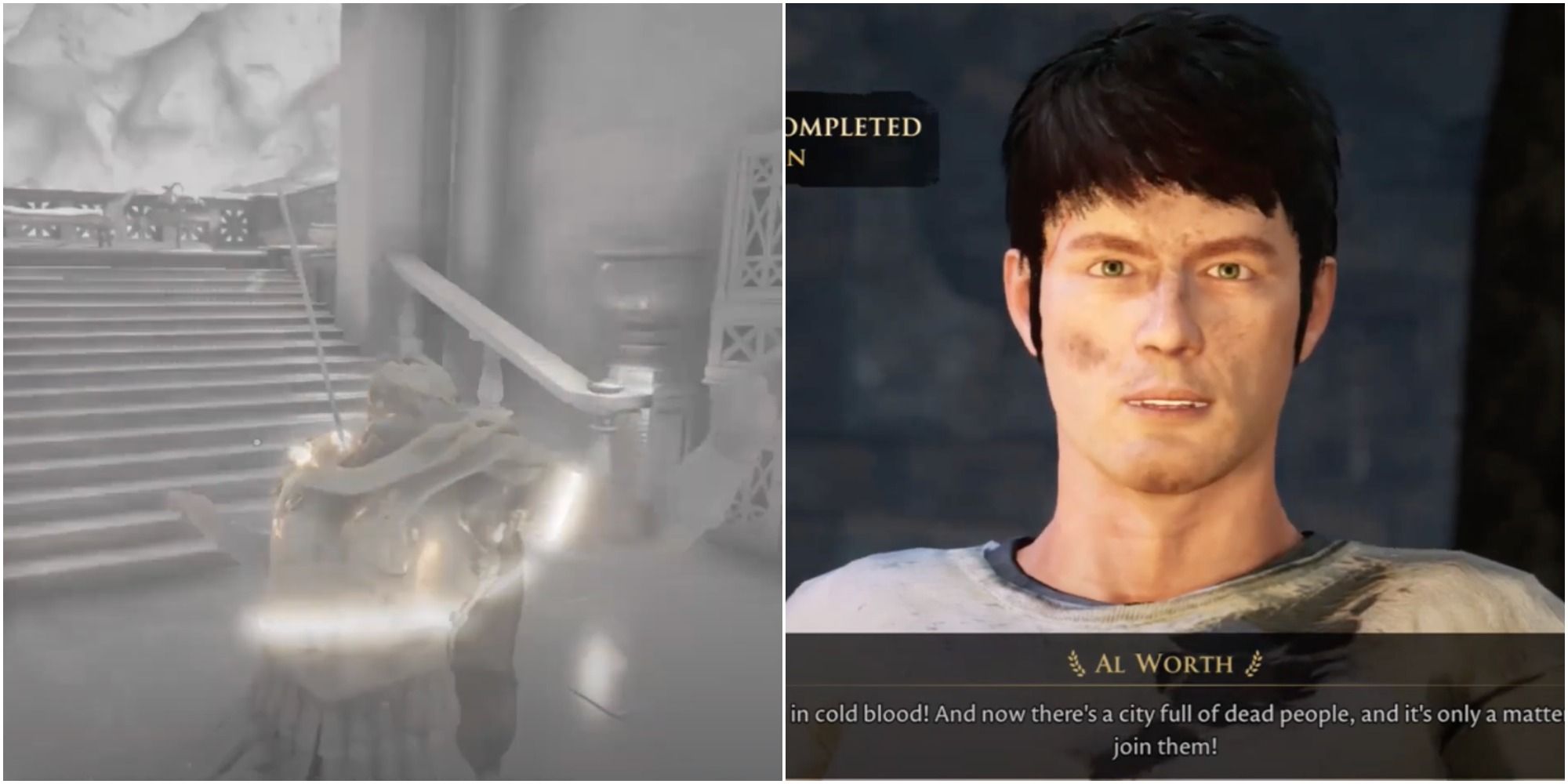 The ending marked as the end in one of the achievements is the worst possible ending in the game, since you save no one from the Golden Rule. After finding Sentilla and letting her reveal Sentius' dirty laundry, you can head back to the city. However, this time you have to head straight to Sentius' mansion and kill him. If you choose to play as a soldier, you can use your gun to do this; otherwise use Bow.
Once you kill him, a time paradox occurs, and you are transported back to your own time. Not only do the citizens of the city have a bad ending, but so do you. Al Worth accuses you of killing a man without remorse and condemns the two of you to a terrible fate. This is true, because this ending doesn't let you see Charon, the only one who can bring you back to the land of the living. So, technically, you and Al are stuck there forever.
3


The One That Got Away – End of Two
Unlike the previous ending, this ending only sees you and Sentilla escape the city. To get to this ending, you don't ask Sentilla about gathering the others, but instead immediately release her. This triggers the appearance of Sentius, where he reveals that he was the one responsible for Al Worth's suicide as well as starting the time loop. When Sentius shows up in the classic, villain-like way, allow Sentilla to kill him or you can do it with golden bow.
RELATED: The Forgotten City: How to Escape the Assassin
Since the cause of the time loop is dead, you are transported back to your own time and everything plays out like the end of 'The Ones That Got Away'. Except, when Charon gives you Sentilla's stele, it shows that she's the sole survivor and leaves you with overwhelming guilt for not saving the others.
2


The Ones That Got Away – Three endings
In this epilogue, you'll find the missing Sentilla locked up in a cistern, where she'll expose Sentius' guilt. You can either get the key to the upper cistern after helping Galerius get elected, or simply barge through the lower cistern below Malleolus' mansion. But instead of freeing her, there is dialogue option to ask her if it is possible to save the others. After you do that, head back to the city and start another time loop.
You will meet Galerius as usual, but you must instruct him to gather as many people (except Sentius) to the upper cistern. Then return to Sentilla and free her, before letting her be the one to kill Sentius after a brief confrontation. After killing Sentius, you will be engulfed in white light and travel back to your time where a living Al Worth found you.
At the Tiber River, Karen (or Charon) will give you a stele. Sentilla writes about the aftermath of your disappearance, and sadly, only a handful of good people survived The Golden Rule.
first


The Canon Ending – Ending Four
Arguably the best ending you can get in the game, it's not considered the mainstream ending for nothing. The big temple overlooking the whole city is locked until you find them all required array to insert into the tower. You will then be faced with a series of doors. By looking at the statues and their costumes, you will understand that you have to say all the names of the Gods of the Underworld in a particular order: Pluto; Hades; Osiris; Allergy. Once you've unlocked the door, you'll be granted access to the infamous Pluto, the God of the Underworld. There are two ways to reduce this.
First, you may not be able to convince Pluto. But wait, all is not lost! There is the option to kill Proserpina and take her crown, before fleeing to start the loop again. You can then go back to the Great Temple, show Pluto his wife's crown, and basically bully him into letting everyone go.
The other way is to start a philosophical debate about morality and show Pluto that he is no better than those he despises.. To do that, you have to choose certain dialogue options after asking him his story and where you are at:
"Are you responsible for The Golden Rule?"

"I've seen some terrible things here…"

Selecting all dialogue options shows all the sins you've encountered are ignored, like Malleolus tricking citizens into becoming his slaves.

"No wonder people say God is cruel…"

"And if you did, you're proving my point."

Don't snitch on Proserpina

"I want you to end the Golden Rule."

"How can you expect us to live without sin?"

"You have given terrible punishments to hundreds of people…"

"If our positions are reversed…"

"Your kind and mine can't be so different…"

"What makes your type superior to mine?"

Choose anything but "Good enough"

"What did the Roman Stoics say?"

"But didn't you say that Tie Moc Chan was your leader?"

"If you can't follow your own rules…"
Then, Pluto will be convinced and agree to abolish the Golden Rule and release everyone. Then you'll get a heartwarming epilogue of all the citizens praising you as a hero.
NEXT: The lingering questions we have after the end of the forgotten city
Thrill Kill, the 'banned' game everyone played
The power of word of mouth.
Continue reading
About the author
https://www.thegamer.com/the-forgotten-city-guide-unlock-all-endings/ How to unlock all four endings of the forgotten city